Crete - the cradle of Europe - Κρήτη
Crete is the fifth largest island in the Mediterranean and also the most southerly in the Aegean.
 Huge mountain ranges, snow-covered hills, deep gorges and a unique natural beauty shape the island as well as the age-old cultural landscape.
The Mediterranean climate of Crete is one of the mildest and healthiest in Europe. The coast on the islands north is rocky with many small bays and clean sandy beaches.The south coast is gentler, peaceful and surrounded by beautifully sand beaches.
Three great mountains dominate the island. Between its high mountain peaks spread out much fertile plains. At the foot of the mountains have been formed canyons in many places. They play an extremely important role in maintaining of the island's flora and fauna. The variety of herbs and flora is extraordinary. Experts estimate that 2,000 different species grow here, among them 160, which occur only in Crete.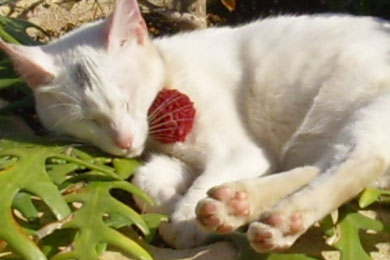 sweet dreams...
Cretan cat lounging in a soft place :-)
............................................Mediterranean Serenity.........................................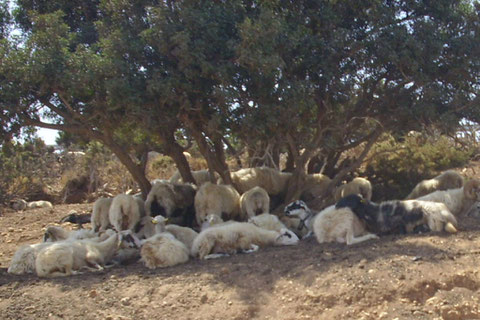 On the way to the monastery 
"Panajia Faneromeni"
during midday heat, you can watch
sleeping Sheeps under the olive trees. 
Land and People
Mentality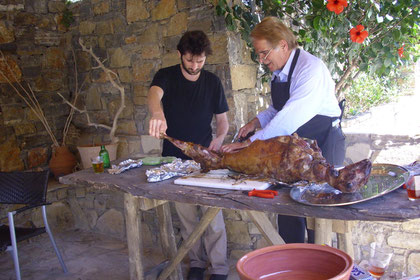 The hospitality of the Cretans is proverbial!
Shaped by the various influences of the extensive trade relations since ancient times, with Asian, African and European businessmen, the Cretans preserved its openess,
curiosity and friendliness to strangers.
Moreover, they are also regarded as a very proud people, not least because in the past, they defended their country several times successfully.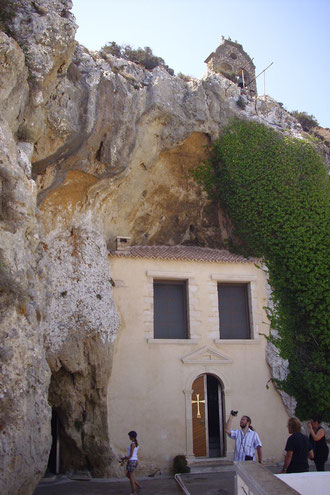 Many Orthodox Christian monasteries
and churches
testify impressive popular piety.

The monastery "Panajia Faneromeni"
is located high on the mountain, 
very close to the Istron Bay Hotel.
The church was incorporated
into the rock.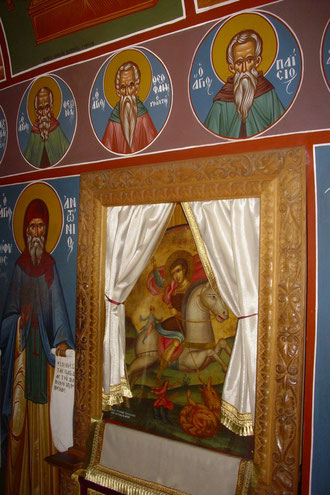 Icon of St. George
in the chapel of the monastery Selinari,
near by Neapoli
---------------------------------------------------------------------------
Useful information
Infrastructure
The island of Crete has three airports, one of them is near the town of Chania - in the west of the island - the second is located in the east of the capital Heraklion and a third is near the town of Sitia in the east of the island (only for domestic flights).
Car ferries operate daily year-round from the mainland between the major port cities
of the island.
The road has been greatly expanded, especially since the EU accession of Greece. The "New Road", a highway that runs along the north coast, connecting almost all major cities throughout the west to the east.
The main mode of transport are the buses.
Connect almost all the villages and towns at regulated times. On the island there is also a well-organiszed taxi network.
---------------------------------------------------------------------------
Some of the most beautiful sights
Lasithi-Plateau - gorgeous to visit it especially during the spring-time 

Dikteo Antro - "The Birthplace Of Zeus"

 - an 

impressive

 

stalactite

 

cave besite the Lasithi -Plateau

Samaria-Gorge - the largest and most famous canyon of the island, located on the south coast in the west of Crete
Spinalonga Island - nearby Elounda

"Valley of Death" -

a little gorge nearby Kato Zakros on the east coast

Palmbeach "Vai"

most famous sandy Beach on the east coast