***  Winter Special Offer!  ***
From 1st November 2015 to the end of March 2016
we offer our cars
already from 15 Euro per day only!
Long term rental even cheaper!
We hand over your preferred car in person
and on time
at Heraklion airport!
*****************************************************************************
 

villa and car

 
a tailored package according to your needs!
 

Istron - Garden-Villas starting at 75 Euro per day only!
The villa is well insulated and fully air – conditioned.
Its orientation (south and west) secures the maximum sunshine, extremely pleasant at the beginning and the end of the season and
ideal for a winter stay!
ask for an individual offer - Contact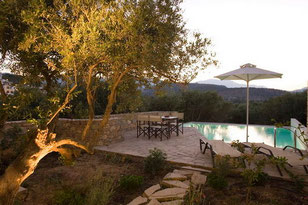 For example
Garden Villa "Lemonia"           with an private Pool
It is located between the village and the sea, only 25 meters from the main road, with all kinds of shops and restaurants.

The ground floor terrace is literally planted in the green of the fertile valley of Istron. Sitting there, you are surrounded by the green and the scents of the orange and the olive trees. The spacious stone flagged terrace-85sm-has afertile garden area, a dining area-we provide barbecues for dining alfresco-a coffee table and an elegant swimmingpool with parasol and sun lounges. It is situated in an olive and orange grove extending without any building from the villa to the sea. The pool terrace is between the trees and the first floor balcony has a clear sea view.

Livingroom
The remarkably spacious ground floor (over 60 s.m.), is an elegantly tiled and furnished space. It combines the sitting area, with the eating area and a well equipped kitchen plus a marble-tiled WC. Each villa has a large terrace either stone-flagged or tiled and its own private pool. A marble topped-table and benches serves for alfresco dining. Trees and pergolas provide shade and privacy.It has comfortable sitting furniture; 28" LCD satellite TV, home cinema/stereo, free Internet connection and afireplace. The living room is large enough to accommodate one or two more people.

one of the two bedrooms
A marble staircase leads to the upper floor, where there is a large master bedroom leading to the spacious balcony with a romantic swing and the coffee table
have a breathtaking sea view over the green valley.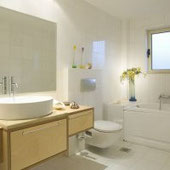 one of the two bathrooms
Both bathrooms are tiled with white marble.The Master bathroom is remarkably large and has a Jacuzzi bathtub, while the other one has a shower niche.

The beautiful sandy beach Pandeleimon is within walkin distance of 400 meters. Two more of the most fabulous beaches of Crete - Karavostasi and Voulisma are 500-1000 m away. All the beaches have been awarded with the blue flag and are maintained by the Municipality.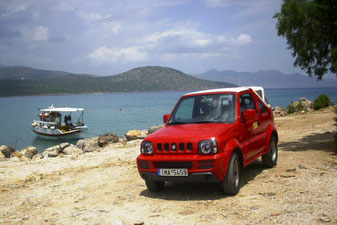 discover
the beautiful island yourself
by Suzuki Jimny four-wheel!
Ask for an individual offer!